Burundi is one of the smallest countries in the African continent, located in east-central Africa and landlocked between Rwanda, Tanzania and the Democratic Republic of Congo (DRC). With more than 11 million people, the country is densely populated with 74.3 per cent of people living in poverty. These factors make it much harder for communities to prepare for, and recover from, health outbreaks and crises.
Aime Saba is a Humanitarian Coordinator with the United Nations Office for the Coordination of Humanitarian Affairs (OCHA) in Burundi.
He arrived in July 2019 to coordinate United Nations agencies and international non-government organisations (INGOs) to prepare and respond to Ebola. Although Burundi has had no cases of Ebola, the high risk of Ebola from 33,000 people who cross the border from DRC has meant the country needed to be prepared for an outbreak.
FROM EBOLA TO COVID-19

Aime's work has now shifted to assisting the country to prepare for an outbreak of COVID-19.
Because of the similarities in a response for both infectious diseases, measures put in place to prepare for Ebola have enabled an easy transition to working on COVID-19.
"Many of the activities we had undertaken with the Burundi Government to prepare for Ebola have assisted with our work on COVID-19," said Aime.
"We have developed the infrastructure at airports and border points, coordinated logistics, developed risk communication and community engagement, surveillance, case investigation and contact tracing protocols for COVID-19 and put in place triage structures and protocols. We have also ensured we have laboratory capacity and that adequate testing machines are available, and that training takes place for frontline medical professionals who are responding to COVID-19."
LOCAL KNOWLEDGE
As an Australian who is originally from Burundi, Aime has gained the respect and active cooperation of government and international actors in the fight against both Ebola and COVID-19. He uses his local knowledge to help guide people on how to respond to a public health emergency.
"I am Australian with Burundian origins so I found it fairly easy to build relationships with people in the Ministry of Health, easier than if I was someone from Senegal or Italy or Australia with cultural or language barriers. Patience and humility are required to lead and guide people."
PROPER COORDINATION IS CRITICAL
With more than 15 years' experience as a coordination specialist, Aime is an expert at coordinating humanitarian crises, such as the current COVID-19 pandemic. His experience means he understands how each UN agency, NGO and government ministry works best to collectively respond to a crisis at a country-wide level. Many countries have seen how a lack of coordination can create chaos and cost lives. 
"When you have more than 30 organisations, including large UN agencies and hundreds of NGOs, in a country with lots of structural instabilities, proper coordination is critical."
"Without clear coordination, you have duplication and organisations only targeting regions where they have access."
Aime is coordinating the response by working with the Ministry of Health to run daily coordination meetings and writing reports to manage the information and critical tasks. He is also providing guidance, troubleshooting and reporting to the Heads of UN agencies to whom he is accountable, helping them to make evidence-based decisions.
MANY CHALLENGES REMAIN
Despite Aime's work, many challenges remain in tackling the virus. Contact tracing, for example, is still a manual process because it only in the early stages of development.
"Normally, you have lists of people and have the particulars such as age, profession, address and then you regularly monitor those contacts and ensure that they stay at home and social distance in their residency. That is difficult in a country as poor as Burundi – only a few people live in houses by themselves or with one or two people in a large house. The remaining live in crowded conditions, making self-isolation difficult."
"Even when you are in touch with people who have been in contact with those confirmed cases you hear stories about how people came to see or visit them, not having considered that they potentially need to be tested."
SHARING BEST PRACTICES 
Aime believes that by partnering with the Government through his work with OCHA, he is sharing best practices about how to harmonise a response.
"Together the different bodies such as UNICEF, the World Health Organisation, the United Nations High Commissioner for Refugees, and UN Women present their work to the Ministry of Health as one UN family. We then ask questions about the activities, the achievements, the results. Those simple practices of proper coordination ensure we do not forget about pockets of vulnerable people in the community."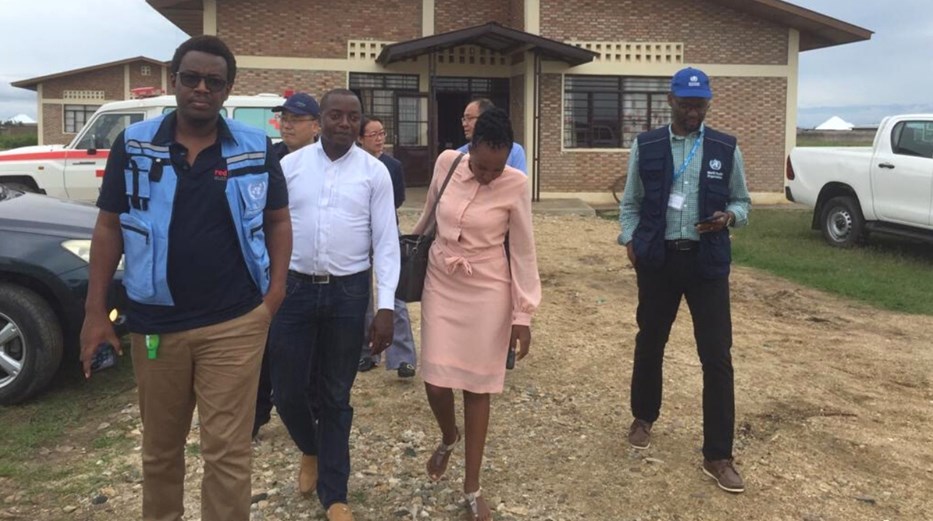 Aime Saba, Humanitarian Coordinator with OCHA in Burundi. Aime's deployment was funded by the United Kingdom's Department for International Development (DFID).