At RedR Australia, we send skilled people around the world to help communities plan, prepare, rebuild and recover before, during and after a crisis. We are not only facing one of the worst pandemics in 100 years but there are also other threats, such as a changing climate, that over the next 10 years will contribute to an increase in the need for humanitarian assistance.
Prior to COVID-19, RedR Australia's submission to Australia's International Development Policy outlined that by 2030, violent conflict and natural hazards would require US$50 billion per year in global donor contributions to manage the needs of approximately 300 million affected people. Of these, 77 million climate-displaced people would require an additional US$14 billion. There is no doubt the economic fall-out from COVID-19 will exacerbate these figures.
Being able to rapidly respond to crises and disasters as they unfold is more than just delivering humanitarian aid, it is about pulling together all parts of our society to plan, prepare and find solutions to help all of humanity.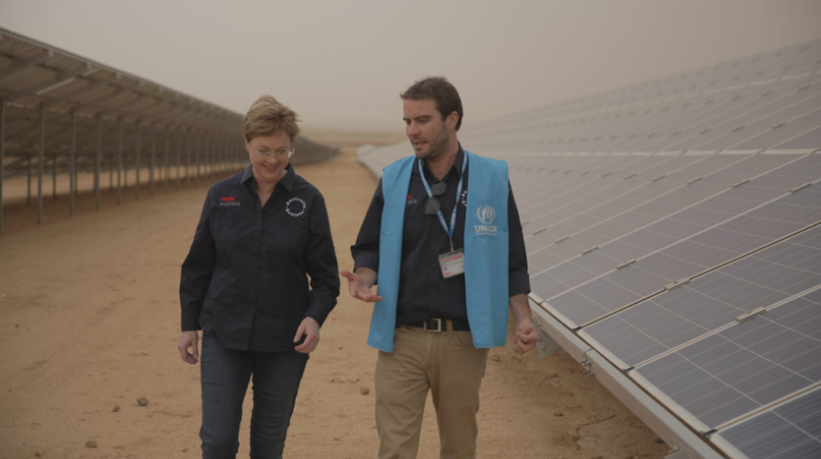 Photo above: Kirsten Sayers, CEO, RedR Australia.
Preparing for a locally led response
RedR Australia is committed to supporting communities to build local capacity and this is why more than half of RedR Australia's deployments in 2019 supported overseas partners and communities before a crisis, strengthening systems to increase resilience.
Vanuatu was hard-hit by Tropical Cyclone Harold in early April, forcing the country to recover from the cyclone while also trying to protect its people from the impact of the pandemic. The cyclone has affected approximately 120,000 people - that is more than 40 per cent of the total population.
During COVID-19, strict quarantine and border controls have made it challenging to deliver humanitarian assistance to countries, including Vanuatu. With no confirmed cases in the country, the Government is keeping firm measures in place to ensure it remains that way. In addition, the Vanuatu Government made clear they would lead the cyclone recovery efforts.
Strong preparedness and response plans, and cyclone-resilient infrastructure developed during Cyclone Pam with the support of humanitarian actors enables a more localised approach to disaster management for both COVID-19 and Cyclone Harold.
The Pacific is constantly changing and these small island countries have emerged as the global leaders of climate-related disaster response. Preparedness is key, and at RedR Australia, our priority is to assist communities and provide humanitarian support before a disaster, to put disaster risk reduction frameworks in place.
The role of private sector in humanitarianism
While governments play an important role during a humanitarian crisis, it is not only their role to build resilience – it needs to take place at all levels of our society to ensure a stronger response and a faster quicker recovery, so we can prepare for future disasters. The private sector also has a part to play, offering their expertise and innovation to find lasting solutions for communities to thrive.
The genesis of Rotary International goes all the way back to 1905, when a diverse group of Chicago-based professionals wanted to come together, exchange ideas and form meaningful friendships through humanitarian service. By 1911, this network of professionals had grown to a national body with an approved motto - 'One Profits Most Who Serves Best'.
Rotary, like RedR Australia's corporate partners and founding bodies, understands that governments and humanitarian organisations alone are not enough. If we are to ensure the resilience of communities and cities when it comes to coping with crises like the bushfire crisis and the COVID-19 pandemic, we must come together and use all the expertise available to make a difference.
Through joint problem solving, skilled practitioners from private sector organisations can come together with local communities in a humanitarian crisis to have a real social impact.
Just like RedR Australia deployee, Alister Perkinson, a Systems Engineer employed by IT company Tickbox, who was deployed through the Australia Assists program to support the Bougainville Referendum Commission. This deployment helped the commission ensure the integrity of critical information systems for the 2019 independence referendum. Increasingly, skills found in abundance in the private sector are needed to support humanitarian efforts around the world.
Humanitarian support and response can no longer function as 'business as usual' in 2020 and disasters, conflicts and crises do not stop because the world is focused on a new threat. RedR Australia is finding new ways to support our neighbours around the world, because now, more than ever, is the time to put humanitarian principles into action.
Cover image: Neil Doherty, Hydraulic Engineer with UNHCR in Cox's Bazar, Bangladesh. Celebrating the delivery and storage of oxygen in a hospital refurbished as an isolation and treatment centre for COVID-19 patients.
First published in the Winter 2020 issue of Consulting Matters.