Five years later, after much consideration, he took the plunge and joined the Aussie Action Abroad Nepal expedition. The experience changed his life—and he never looked back.
Growing a humanitarian career
When David arrived back in Australia, he connected with Architects Without Frontiers. From there, he started taking architects and architecture students to Nepal to undertake community development projects. The projects were all driven by Nepalese communities, developing relationships with them over the long term.
The work in Nepal also sparked David's wider interest in the humanitarian sector. Fast forward to 2018 and David had completed a Master of Disaster, Design and Development at RMIT and was embarking on his first deployment with Australia Assists —the Australian Government's humanitarian civilian deployment program, implemented by RedR Australia. It was a fitting first deployment for David with UNHCR, supporting Bhutanese refugees living in Nepal.
"It was perfect because I had so much experience from years working in Nepal. I was comfortable with the language and I was able to get in there and really work as a part of the team, assisting the response," said David.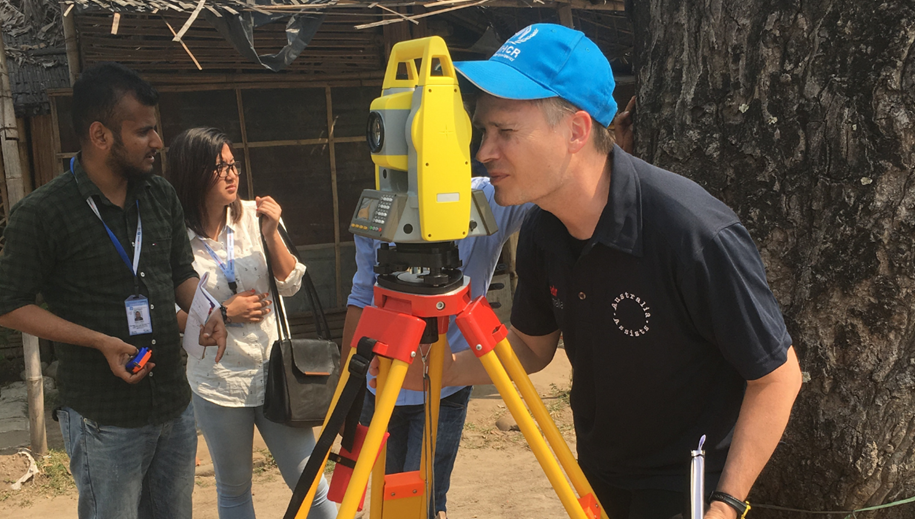 Australia Assists deployee David Anderson conducted survey work while site planning at Beldangi Refugee Camp in Jhapa, Nepal.
Supporting refugees through Australia Assists
David has now completed three unique deployments with Australia Assists, with each one supporting different refugee communities around the world.
Following his posting in Nepal, David completed a remote deployment for UNHCR supporting Syrian refugees in Türkiye and internally displaced people in Syria, as well as his most recent deployment with UNHCR in Romania, supporting Ukrainian refugees.
"Each deployment has been different, but with similar overarching themes. Each one has built on the experience from the previous one," said David.
David's work ranged from supporting a refugee camp relocation in Nepal, to participating in design forums on dignified shelters for his work in Türkiye and Syria, to planning a new model for collective accommodation in Romania which aims to support refugees' mental health.
Using commercial skills in a humanitarian context
Across all of David's deployments with Australia Assists, he worked closely with his humanitarian colleagues to 'design out' unsafe spaces using the architectural skills he developed in the commercial sector.
"As an architect, I can look at the function of a space and consider how to ensure the space best suits the needs of the end user. So, in settlement planning, I work to understand how the settlements can—through careful planning—mitigate the risk of gender-based violence," said David.
"That may be wide, open pathways, and separating toilets by gender and distance. That may be designing out unsafe spaces—ensuring there aren't any unsafe spaces within the settlement layout, so there is less risk. These are the type of smart, careful interventions that can ensure we meet the needs of the end user."
And whether that be an internally displaced person, a refugee family or a small remote community, David always works with communities and colleagues to ensure these same principles are applied in every context.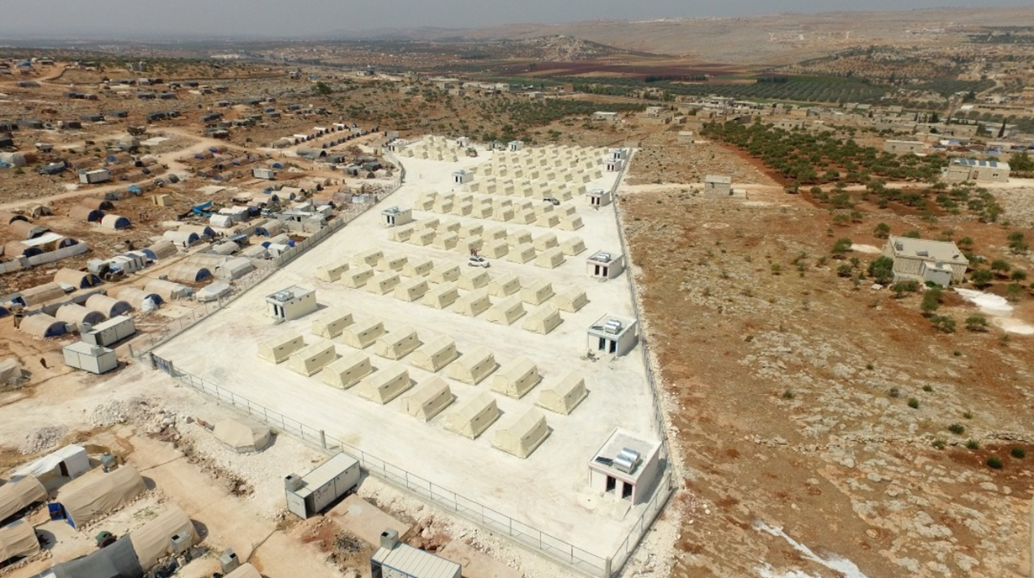 David helped plan settlements for internally displaced people in Syria, ensuring the sites met Sphere and UNHCR standards.
Sharing skills and knowledge
David also stresses the importance of team-based approaches. Working closely with colleagues from local communities as well as international colleagues, he aims to both learn from their experiences and share his knowledge so everybody benefits—especially refugee families.
"All this work is very much team-based—learning from each other, working alongside each other, understanding that each person has a different set of skills and being able to draw those skills out for the benefit of those we're serving," said David.
"Looking at the outcome for the affected people is the main goal."
Designing calm spaces for Ukrainian refugees
In Romania, David's Australia Assists deployment with UNHCR saw him working very closely with the Romanian Government and UNHCR's protection teams.
Part of his role was to plan the site layout for transit camps and design collective accommodation as part of the contingency planning for possible conflict escalation. This included designing site layouts for the temporary transit sites to accommodate the possible additional influx of Ukrainian refugees.
After refugees crossed the Romanian border from Ukraine, they would be bused to temporary accommodation sites where their stay would be for no longer than 48 hours before they move to their final accommodation, which is sometimes beyond Romania.
"I worked alongside protection and WASH (water, sanitation and hygiene) experts to plan those sites to mitigate the risk of gender-based violence, and pre-position supplies they might need," said David.
"I also planned a new model for collective accommodation which aims to support the refugees' mental health. Together, we worked to ensure both the site and the internal layout of the collective accommodation would reflect a sense of relief, calmness and respite."
David helped to develop sleeping pods, as well as play zones, where children could mix with elderly people to really create that sense of calmness within the space.
"Even though refugees are only there for 48 hours, it's powerful to create that sense of relief when they use the collective accommodation, rather than just simply throwing a whole lot of beds in the space."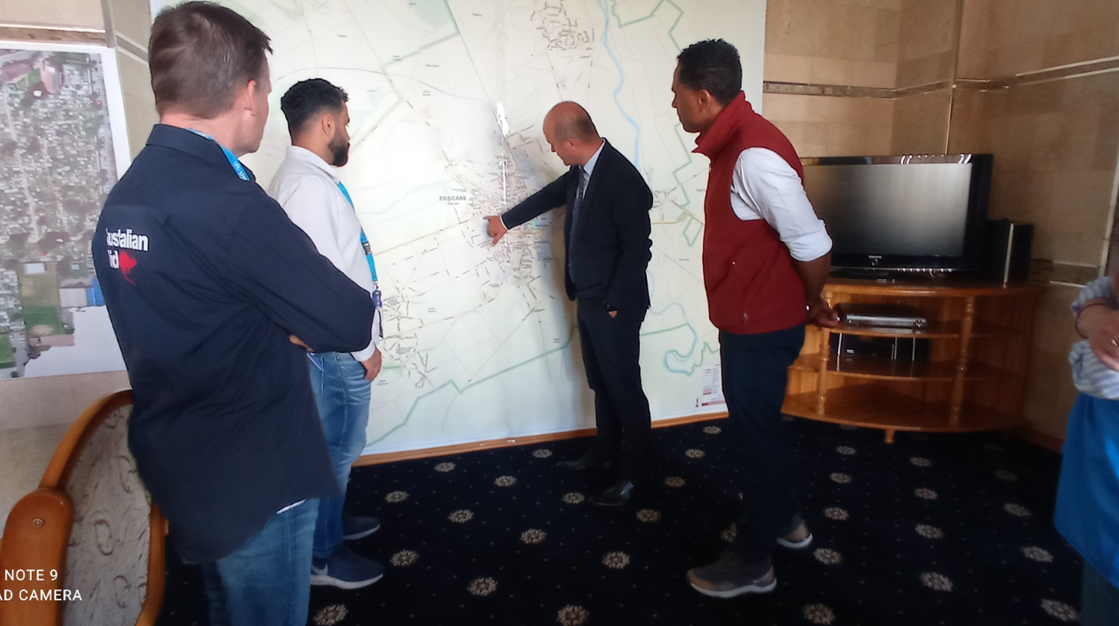 David worked on the design of transit camps near the Ukraine-Romania border and is seen here in the Pascani Municipal Office discussing possible locations with the mayor. 
The importance of family
As a parent, David understands the importance of supporting and strengthening family connections. For each of his deployments, David has had the support of Australia Assists to take his family with him. That meant taking his six-month-old daughter to Nepal in 2018 and then, later, to Romania where she attended an international kindergarten and celebrated her fifth birthday.
"It's incredibly important to have my family with me. I wouldn't be able to do this work if the Australia Assists Program didn't support family deployments," said David.
Understanding resilience
David's work has made a remarkable difference to his life, and he is passionate about continuing to work in the humanitarian sector.
"This work has left an imprint on me. The resilience that people show in difficult situations is incredible. And the work that Australia Assists does to support the most vulnerable people in their time of need is such important work," said David.
Learn more about Australia Assists and how the Program supports communities before, during and after emergencies.