Mel is a dedicated protection and inclusion specialist, whose empathy and humanitarian values have driven her to work in humanitarian crises around the globe. By building strong relationships with communities and drawing on her skills as a social worker, Mel helps to protect people who are more vulnerable during times of crisis. 
Mel has worked with the United Nations and international NGOs across Asia, Africa, the Pacific and Australia, and she has deployed twice with the Australia Assists Program—the Australian Government's humanitarian civilian deployment capability, implemented by RedR Australia.  
Her first deployment with the Australia Assists Program was as a disability and gender inclusion advisor for the Office for the Coordination of Humanitarian Affairs (OCHA) in Somalia in 2020. Then, this year, Mel travelled to Coxs Bazar, Bangladesh with UNICEF to help train and support local social workers in child protection. 
Starting out: a study tour to Bangladesh 
In 2004, Mel was in her final year of a social work degree, and she still wasn't sure what she wanted to do. Having pivoted from her original plan of becoming a teacher, Mel embarked on the degree to provide a base for the kind of career she had imagined.  
"I knew that I wanted to work with people," says Mel. "I wanted to work cross-culturally and I wanted to help people. As simple as that sounds, that was the foundation." 
But the next steps seemed uncertain.  
It wasn't until a study tour to Bangladesh that the path became clearer. Mel's student group spent several weeks visiting community initiatives like women's sewing groups and fish farming projects. Then, other students began to notice Mel's interest and her ability to build rapport with people. 
"Everyone in my group at the time was pointing at me, saying, 'You're going to end up back doing this sort of work'. And I thought, 'What do you mean? What can you see? Doesn't everyone want to do this sort of work?'"   
From social worker to humanitarian  
Mel spent 12 years as a case manager, predominantly with Australian Red Cross. She provided case-management and support for refugees and asylum seekers, and initially her work focussed on families who had children with a disability.  
In 2011, Mel spent 11 months volunteering in the Solomon Islands with the Red Cross Blood Bank. The trip exposed her to the development sector and was "a huge learning experience", allowing her to upskill in areas like project management and community engagement.  
These experiences led Mel to work in child protection on Manus Island and Nauru, and, later, coordinating volunteers for Engineers Without Borders in Timor Leste. 
After joining the RedR Australia roster, Mel's first deployment was as a disability inclusion advisor with OCHA in Somalia in 2020. More recently, in 2022, Mel deployed to Cox's Bazar, Bangladesh, with UNICEF, as a social work specialist. Both deployments were included as part of the Australia Assists Program, funded by Australian Aid.  
In Cox's Bazar, Mel trained government social workers in child protection case management. "So, I thought I had left the case management behind. I had done that for 12 years and felt, 'Okay, it's time to move on from that'. But I was now able to bring that back together with the humanitarian work and marry those two things."  
Protection: safeguarding the vulnerable  
Mel has come to specialise in protection, an integral component of humanitarian response.  
Mel understands that in times of disaster and conflict, some groups emerge as more vulnerable than others. Women, children, people with disabilities, people with mental health concerns and elderly people can be at greater risk of experiencing harm than others.  
Protection, in a humanitarian context, aims to prevent and reduce these risks and to ensure that the rights of more vulnerable individuals are protected. This can encompass legal assistance, case management, counselling for gender-based violence and child protection. 
"Protection is putting some of those mechanisms in place to safeguard people and groups who are more vulnerable in a humanitarian response," says Mel. 
Protecting children through the Australia Assists Program  
In Bangladesh, Mel worked in Cox's Bazar, home to the world's largest refugee camp, to upskill social workers in child protection case management supporting people in need in the camps as well as in host communities. 
Mel explains that, in Bangladesh, "Many of the social workers I worked with… are not necessarily trained in social work. They may be from a business background or sociology or linguistics or, in some cases, teaching or community work... There are a lot of dedicated caseworkers but many of them may not have received the high levels of training needed to intervene in a technical or complex case of child protection".      
Focusing on seven key government supervisors, Mel provided training and support to upskill in areas like child protection risks, interventions and referrals. Mel worked closely with her local colleagues to grow capability and confidence so that these supervisors could go on to train and support more local social workers.  
Much of Mel's work has involved training people on the importance of preventing harm to children in crisis situations. "People don't always understand why we need to intervene," says Mel. "But you can demonstrate that if we don't intervene, then cases of child marriage, child labour, these sorts of things, are going to be really high. Some of that then relates and people realise that if we try and do prevention, if we try and do case management at an early stage, it can prevent some of those high-risk practices down the track."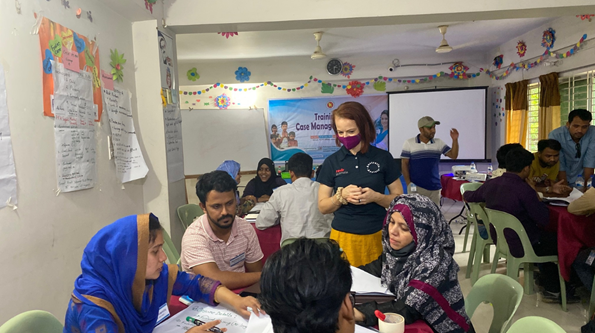 Mel provided training and support to upskill social workers in child protection case management.
Empathy leads the way 
Having worked extensively with families and children across a range of crisis situations, Mel views empathy as an essential skill in the humanitarian toolkit.     
Mel says, "Empathy definitely helped me in the sense of trying to understand other people and get a sense of where they're at". 
She sees the impact that an empathetic approach can have on sensitive service design and delivery. "Empathy is putting yourself in someone else's shoes. So, I think if you can do that, to some extent, and envision what things are like for them, it can also lead to more sustainable approaches."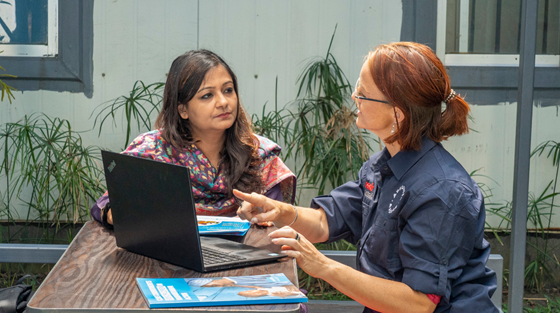 A natural fit  
Despite not knowing exactly how her career would pan out, Mel now views her move into humanitarian work as somewhat inevitable. 
"It's not like I woke up one day and decided to be a humanitarian… but I think, because of who I am, my values, the principles that I try to live by, my passions and skills, they've led me to humanitarian work… because of that, I would have ended up in this space, in one way or another." 
The humanitarian principles of preventing and alleviating suffering resonate with Mel's own values, making her work a natural fit.   
"I think you need humanitarian principles somewhat within you to work as a humanitarian. It's not something that you just add on. If you don't believe it, you can't really practice it." 
Labour of love 
Mel is deeply passionate about her work. "I really do love my job," she says, "and want to keep working in the space for some time."  Thanks to programs like Australia Assists, Mel can continue to do her life-changing work, building relationships with local communities to help protect the groups that need it most.
"People say sometimes 'Oh, I couldn't do what you do' and I say, 'Yeah, I couldn't do what you do. I couldn't be an accountant or a dentist or a vet'. We're all different and I think we need to pay attention to the things that drive us.   
"Working in this space and working with people in this way together, cross culturally, this makes my heart tick." 
Learn more about Australia Assists and how the Program supports communities before, during and after emergencies.